25. TIRUCHY – AMSAM
St. John Bosco; (1985) 1993: Tiruchy
VISION
We, the Salesians living at Amsam, following the model of Jesus, the Good Shepherd, and being aware of the call to the chosen people, especially the young, aim at forming faith filled, economically, intellectually, socially, politically uplifted and caring Christian communities by basing ourselves on the word of God and the sacraments, ALONG WITH OUR STRONG DEVOTION TO OUR Lady Mary Help Of All People. And we commit ourselves to educate the youth of the diocese and the locality to become honest citizens and God fearing people by giving all-round formation.
MISSION
To deepen the Christian faith life of our parish Catholics, youngsters in particular.
To help the people to encounter Christ through meaningful celebration of sacraments and the Word of God.
To educate the poor children of this area.
To educate the people and the youngsters towards their commitment to the society.
To improve the quality of anbiams.
To inculcate in them more human and Christian values.
HISTORY
In 1990 taking out of Ammapettai Parish, 4 substations that is, Navallur Kuttapattu, Muthukulam, Vadakupaganur and Therkku paganur, a new parish of Sagaya Annai Mission was established with its centre at Vijaya Nagaram where young Salesians were studying. The first parish priest was Fr. Augustine Moolacherry.
In 1992 Fr. Tharcius, the then Parish Priest, changed the title of the parish into Annaithu Makkalin Sagaya Annai Maiyam. The main substations of AMSAM are:
Navalur Kuttapattu
Muthukulam
Vadakkupaganur
Therku Paganur
Poongudi
Chatrapatti
Ariyalur
Kallikudi
Chozhan Nagar
Mathur
MAJOR ACTIVITIES
PARISH: AMSAM parish has 9 sub-stations consisting of 720 Catholic families. There are 28 Anbiams. Various pious associations like Legion of Mary, Vincent De Paul have their regular meeting and animation under the guidance of the parish priest. Sunday Catechism is regular and there are 350 children and 23 teachers. The youth in the parish are organised every month and they participate in the parish activities and social reach out programme.
DON BOSCO ITI –has six NCVT trades and one SCVT trade. There are 332 students and 18 staff. There are 113 Christians and 219 non-Christians.
HOSTEL: There are 52 boys in the hostel.
CONTACT DETAILS
Don Bosco Amsam
Bosco Nagar
Tamilnadu National Law University PO
Agriculture College Opp.
TIRUCHY – 620 027
Phone: (04362) 257664 Rector/House
89030 09921 House
94897 87345 Rector
90033 51765 ITI
E-Mail: db.amsam@gmail.com
amsamitc@gmail.com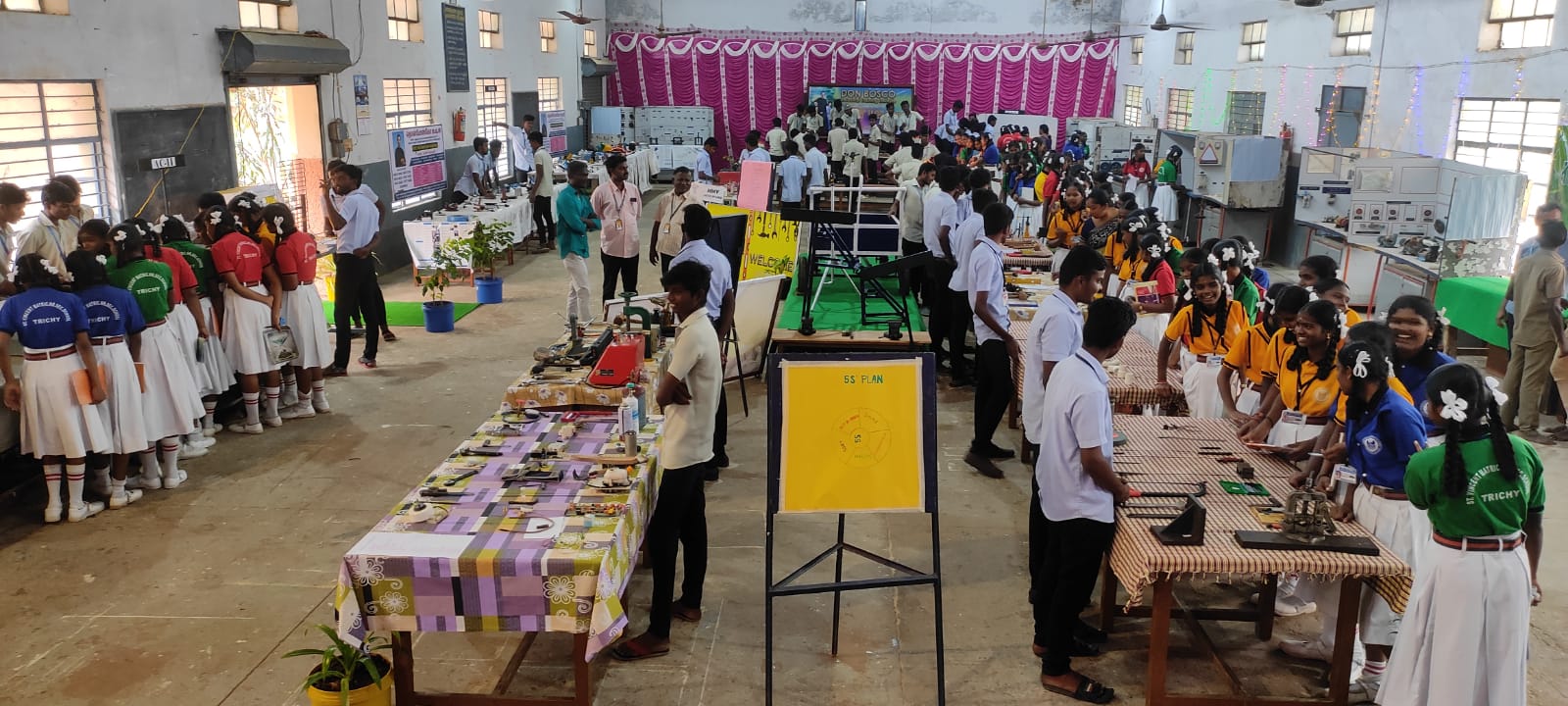 Don Bosco Tech Exhibition – 2023 and Skill Competition was organized at Don Bosco ITI, AMSAM, N.Kuttapattu, Trichy on 2nd March 2023. The main purpose of this event was to improve the practical skills of the students in each trade. Students displayed their projects for the exhibition. Around 300 students from St.Vincent Matriculation Hr.Sec.School., Annai […]
Read More