01. ALANGULAM – KALAVASAL
St. John Bosco; (1993) 1999: Madurai
VISION
We the confreres of Don Bosco Melanmarinadu salesian community creatively and daringly respond to the signs of the times by opting to work for the child labourers, dropouts and marginalized youth of this area aiming towards total literacy through schools, boardings, dropout centers and evening night study centers, with a hope of imparting integral education to the poor children and holistic formation to the marginalized youth of this area making them good and honest citizens and agents of social transformation following Don Bosco's way.
MISSION
To make co-ordinated efforts to prevent child labour and school dropouts.
To offer education to all children in our neighbourhood till atleast 10th
To empower the young to get employment.
To provide need based technical skills for the rural youth.
To rescue and rehabilitate the orphans, semi-orphans, refuges and the children who are in the correction home in our locality. (Minor Jail)
HISTORY
Inauguration of this mission on 24.06.1993.
Contract was signed on 09.08.1993.
Land at Bosco Nagar was bought between 1994 and 1995.
Land was bought at Kottamadakipatty for the chapel in 1994.
Land was bought at Kiliampatty for the chapel 1994.
Chapels at Madankoilpatty and Pazhayapuram were repaired in 1994.
Land at Kalavasal was bought between 1995 and 1996.
Blessing of the Chapel at Kiliampatty on 12.03.1995.
Blessing of the chapel at Kottamadakipatty on 12.03.1995.
Chapel at Ramudevanpatty was repaired in 1995.
Inauguration of the Salesian Residence at Vidivelli, Kalavasal on 04.02.1996.
Boarding was shifted to the land at Bosco Nagar in 1996.
Blessing of the chapel at Appayanaickanpatty on 29.04.1997.
Foundation stone was blessed for the high school at Bosco Nagar on 18.11.1999.
Land was bought at Madankoilpatty for the chapel on 20.03.2000.
Land was bought at Duraisamypuram for the chapel on 18.04.2000.
Management of the three schools was handed over to the Salesians on 31.07.2000.
Blessing of the renovated chapel at Kandiapuram on 08.08.2000.
Inauguration of the school building at Bosco Nagar on 26.2.2001.
Foundation stone was blessed for the Boarding at Bosco Nagar on 26.2.2001.
Foundation stone was laid for the chapel at Duraisamypuram on 15.4.2001.
Renovation work for the chapel at Thombakulam began on 24.09.2001.
Blessing of the renovated chapel at Melanmmarainadu 24.11.2001.
Blessing of the renovated chapel at Thombakullam on 29.01.2002.
Blessing of the new chapel at Duraisamypuram on 30.01.2002.
We received the patta for the land which was bought at Madhankovilpatti
For the chapel on 20.03.2000 on 15th May 2002.
Regional superior Fr. Joachim D'Souza visited the house, parish and the school for the extra ordinary visitation on October.3rd and 4th of 2002.
Salesian sisters left the mission on 31st May, 2003.
Toilet construction for the boarders sponsored by Apis group was blessed and started on 11th June, 2003.
The Boarding cum Salesian residence building at Bosco Nagar was started on 7th June, 2003.
Drop – outs prevention centre and Semi-boarding were started in July.
MAJOR ACTIVITIES
PARISH: AlangulamKalavasal consists of 12 substations. There are 200 Catholic families with 698 Catholics. There are 17Anbiams in the Parish. Sunday Catechism is conducted in 7 sub-stations. Around 50 children attend the Sunday Catechism classes. Parish has got an active unit of Gospel Proclaimers and they have their regular meetings and prayer animations. Parish has got a youth group with 18 members.
DROP OUT CENTRE: There are 12 students studying in the centre this year.
REACH-OUT PROGRAMME:The community reaches out to the children in 6 villages through evening study centres. Around 173 children are benefitted from these centres. Six lay volunteers are appointed to assist these children in the centre.
Youth Groups: Local youth are formed into a group and there are 14 members at present.
SALESIAN CO-OPERATORS:There is a Salesian co-operators unit with 19 members (17 promised members and 2 Aspirants).
ADMA: The parish has got an Adma unit with 67 members.
CONTACT DETAILS
Don BoscoVidivelli
P.Box No. 1, Kalavasal,
Keela Raja Kularaman PO
VIRUDUNAGAR DT – 626 136
Phone: 9655262301
Email: dbkalavasal001@gmail.com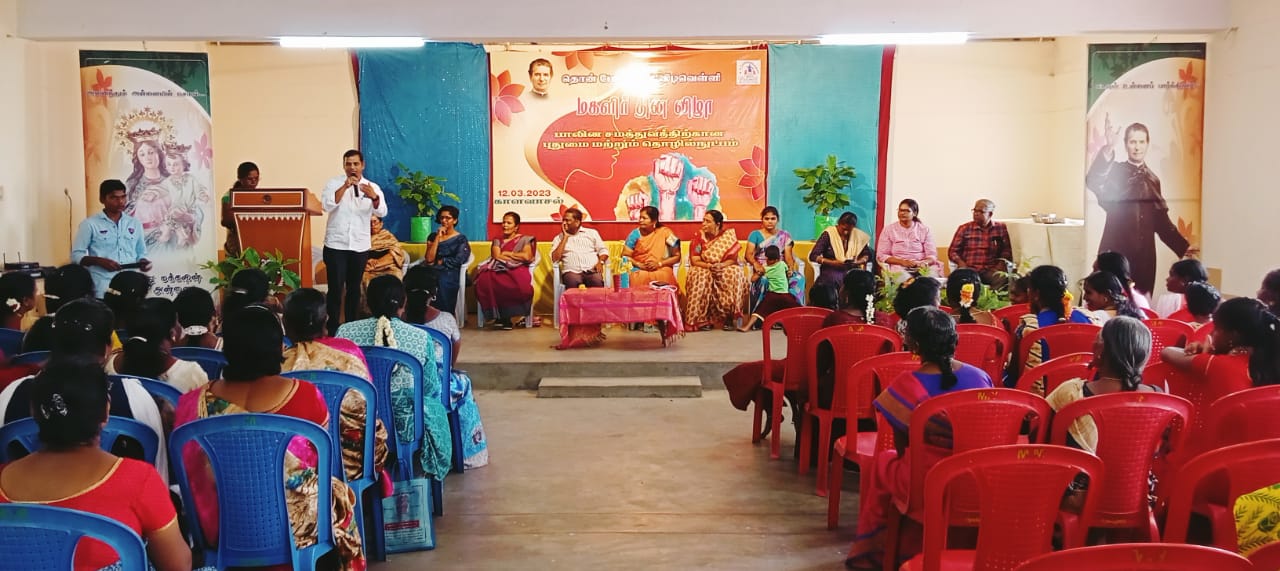 The Women's day was celebrated at Don Bosco Vidivelli on 12.03.2023. There were 150 women from 16 villages in and around Kalavasal participated in the celebration. All the women who participated in this celebration are connected to Don Bosco Vidivelli through the self groups, Women empowerment programs and tailoring training program. The celebrations began in […]
Read More