12. MADURAI – JAWAHARPURAM
St. John Bosco; (1996) 2006: Madurai
VISION
Don Bosco ITC is committed to impart Holistic formation to the disadvantaged youth in and around Madurai district through quality, job oriented and value based technical skill training, ensuring total literacy around by creating awareness and providing educational services and thus empower the youth of neighbourhood to work for social transformation in the Don Bosco way.
MISSION
Providing holistic formation and quality, technical, job-oriented and value-based skill training.
Ensuring total literacy in and around by creating awareness and educational services.
Empowering the youth of neighbourhood to work for social transformation in the society.
HISTORY
Madurai Don Bosco was started at the year of 1987 in K.Pudur of Madurai District. Madurai Don Bosco gives education for 10th and 12th poor urban and rural poor youth of Madurai District. It also helps the school drop outs by giving the technical education.
1987 : Opened newly built Don Bosco Technical Institute.
1989 : "Don Bosco 1988 Memorial'' building was opened.
1989 : New building (with Asbestos shed) was opened at the corner of ITI.
1988 : ITI School started.
1988 : Temporary Recognition for wireman (Electrician) Trade and Welder Trade.
1989 : Radio and T.V., Mechanism Trades were introduced.
1989 : Fitter Trade was introduced.
1992 : Bosco Institute of Graphic Arts was opened. (1999 it was closed).
1996 : New House for the confrere's in ITI was built (Brother's room and Chapel).
1997 : Compound wall and a new gate towards Jawaharpuram bus stop was opened.
1997 : Night school started.
2000 : New building for ITI was built.
2000 : A/C Mechanic, Mechanic motor vehicle and general electronics trades were started.
2003 : Inauguration of Don Bosco boys home.
2003 : New Temporary kitchen was built for the DBBH.
2003 : Instrument mechanic trade was introduced.
2003 : Girls were introduced for the ITI studies.
2006 : New hostel for the boarders built
2006 : Printing and computer trades started
2007 : Welding and lathe works started
2007 : Don Bosco Youth Centre Started
MAJOR ACTIVITIES
DBITI–DBITI has both formal (NCVT) and non-formal (SCVT) trades. Fitter, Electrician, Refrigeration and AC Mechanic and Electronics come under formal two-year course. Auto Mobile mechanic, Electrician, Refrigeration and AC Mechanic come under one-year non-formal course. There are 238 students studying at the ITI in this academic year. There are 16 teaching staff members in the ITI. The ITI has got various groups and movements like Sports, Cultural, Eco, Blood-donation and technical trade groups. They have their regular meetings and their minutes are recorded.
BOSCO HOSTEL has 48 students with a full time Salesian assistant. There are 22 Catholics and 26 non-Catholics in the hostel. Students are divided into four groups, sports, liturgy, entertainment and Eco. Annual plan is prepared.
DON BOSCO YOUTH CENTRE: The youth centre has 91 members. They visit the campus for their animations, sports and recreating. Daily, weekly and festive oratories are conducted. Members have their regular meetings under the guidance of the youth service coordinator. Past Pupils
PAST PUPILS: There are 10 life members and 3000 active members in the unit. The past pupils annual gathering is held on January 26. Regular meetings and animations are conducted and the members are involved in giving scholarship to the poor students and in other charitable works. Efforts are made to organize the unit in a better way.
CONTACT DETAILS
Don Bosco Private I.T.I
Jawaharpuram
Pudur, MADURAI – 625 007
Phone: (0452) 2563667 ITI
75300 99105 Rector
75300 99106 ITI Office
75300 99107 Hostel
75300 99108 Administrator
E-Mail: dbitimdu@gmail.com
boscoitcsociety@gmail.com
vocationpromoter24int@gmail.com Vocation Promoter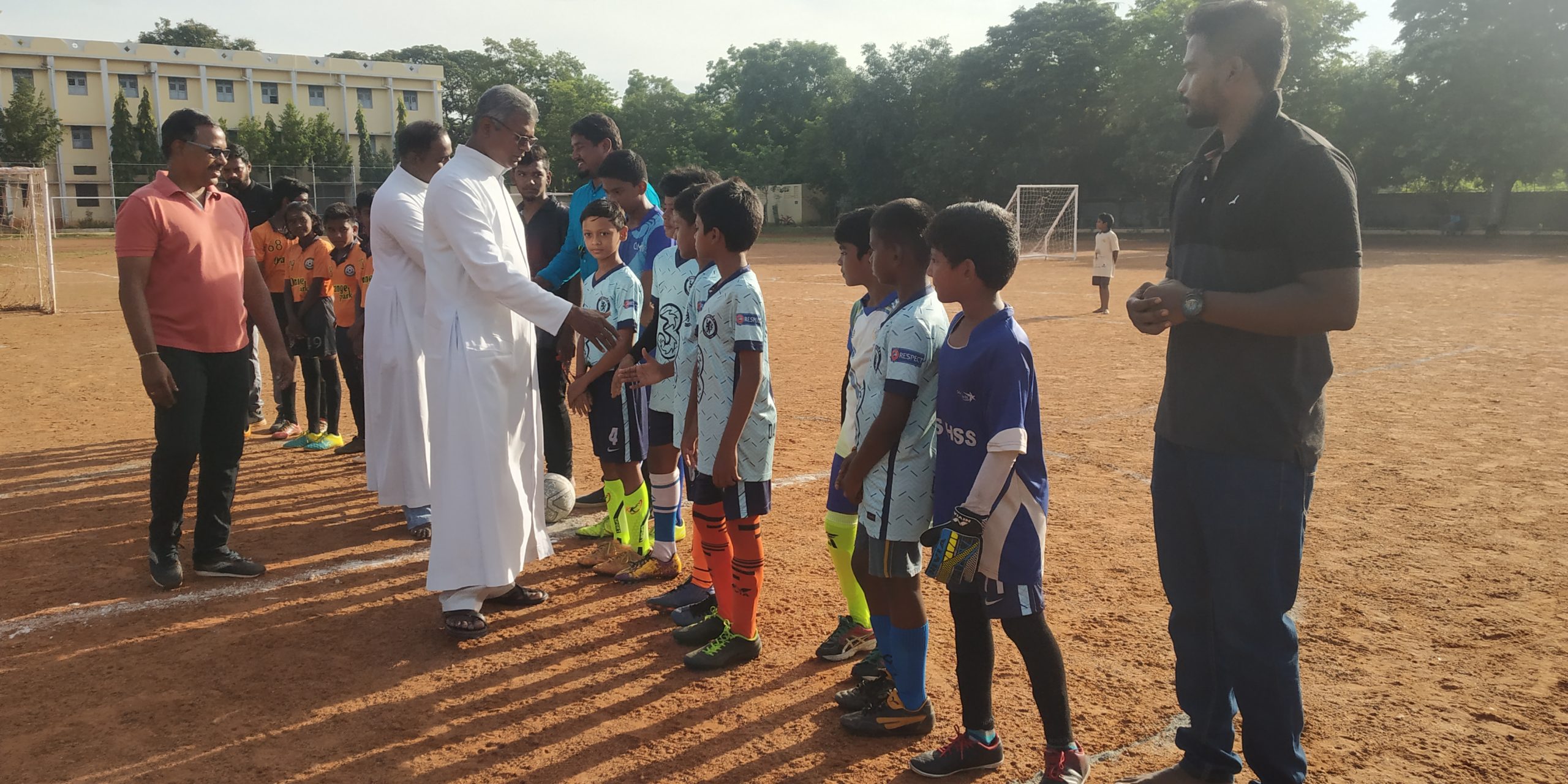 Tiruchy, Oct. 12. Don Bosco Industrial Training Institute (ITI), Madurai, hosted the annual state-level Football Tournament held from October 8-10, 2021. Seventy-five teams participated in the tournament from different districts of Tamil Nadu. Father Amala Jeya Rayen, the Rector, inaugurated the Football Tournament. In the past two years, due to the pandemic, the tournament was not […]
Read More