29. VARADARAJANPET
Mary Help of Christians; (1964) 1964: Kumbakonam
VISION
We the Salesians of Varadarajanpet aim to form the target group to become God fearing persons who will also be socially, economically, politically vibrant agents to empower others.
MISSION
We the Salesians and members of Salesian family (Cooperators, past pupils) edicate ourselves to form our target groups (youth, students and people) Good Christians. We educate them to face the social change. We prepare them to develop and lead a life of ethical & moral values.
HISTORY
The Salesian community has been rendering its service to the people particularly for the youth since 1964. The work began by Frs. V T Sebastin and Kuriakose.
The community is situated in the Town Panchayat of Varadarajanpet. The main occupation of the people is agriculture. They are agricultural labours. This area has a heavy concentration of Catholics. They were evangelized by St. John de Britto and Veeramamunivar.
It was in the period of Fr. Sebastin Vayaipara, sdb, that the Oratory took its shape in a truly Salesians way on June 30th 1970. It catered mainly to the elementary and middle school youth of the locality. Since most of those who attended the Oratory were poor, they were given material help as well. The mid-day meals scheme was also started. Nearly a150 boys were fed every afternoon, so that their schooling and learning may not be tiresome. Facilities were also provided for the youth to learn Tailoring, book binding, soap making, hair cutting, music, agriculture etc.
Boys of the locality who had no facilities to study at home were given opportunities to study in the school at night. In 1974 Fr. Stanislaus,sdb and the one who spent most number of years in this house was Rev Fr. C Jeganathan enlarged the scope of the House from school to boarding and Oratory.
In 1979, the DBYC was in a flourishing condition. Many boys who had finished SSLC, joined our Oratory, so the oratory took a new shape altogether. The oratory which had been caring only for the local Boys began to serve the poor boys of the nearby places as well. In 1983 during the time of Rev Fr. A. M. Chinnappa, sdb, semi boarding took a new shape. Boys were given food, shelter and equal facilities of study, work, games and spiritual benefits. A new carpentry section was started to teach trade to the boys. Many dropouts from the school were also cared for and given basic education.
MAJOR ACTIVITIES
DBHSS: Don Bosco Higher secondary School has both Tamil and English medium section. There are 1745 studentsin the school (1450 for Tamil mediumand 295 for English Medium). There are745 Christians and 1000 non-Christians. The school has got a good and dedicated staff team. There are 52 teaching staff and 6 non-teaching staff. School has got NSS, NCC, Scouts, JRC, HRC, Eco clubs and various other clubs.
BOSCO&SAVIOHOSTEL: There are two hostels in the community. There are 281 boys at the Savio Hostel and 110 boys at the Bosco Hostel.
SALESIAN COOPERATORS:There is an active and vibrant Salesian Cooperators unit with 27 members and 10 Aspirants. They have their regular meetings under the guidance of the Rector.
PAST PUPILS OF DON BOSCO: There is an active unit of the Past Pupils of Don Bosco. There are 82 life members. They have their regular meetings and get in the mission of the community.
YOUTH GROUP:There are 32 members and all of them are registered under Ilamai, the Province youth movement.
DON BOSCO FOOTBALL ACADEMY: There is Don Bosco Football Academy consisting of 22 members. This academy consists of Students from the School and members from Junior Youth group.
CONTACT DETAILS
Don Bosco
Varadarajanpet PO
Andimadam Via.
ARIYALUR DT – 621 805
Phone: 82206 63773 House
(04331) 241177 School
241311/97516 07999 Savio Hostel
99438 09894 Bosco Hostel
E-Mail: dbvpet@gmail.com
donboscohssvnpet@gmail.com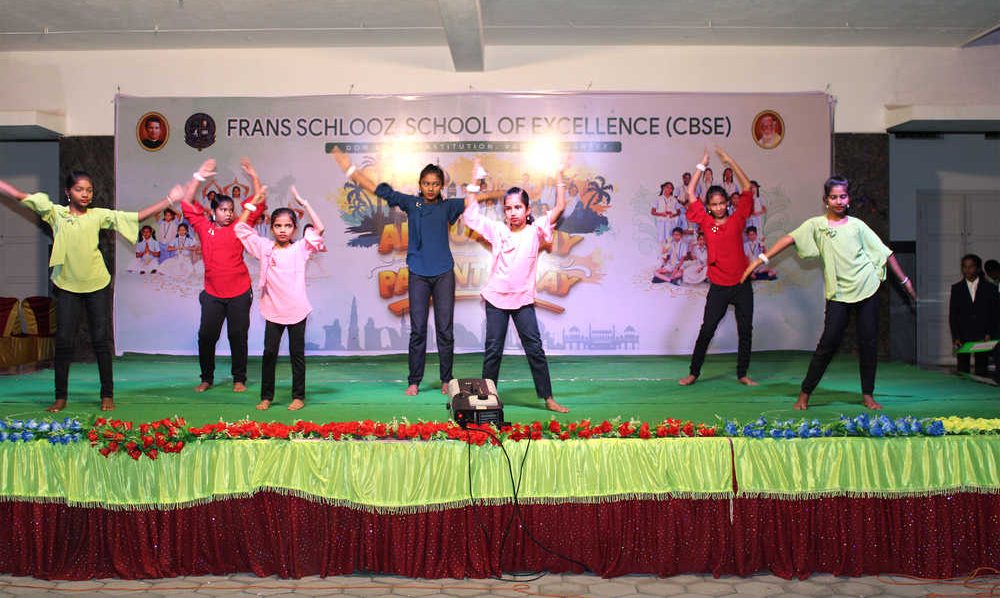 The Annual day and Parents Day of FRANS SCHLOOZ SCHOOL OF EXCELLENCE (CBSE), Varadarajanpet was held on 25 February 2023. Fr Agilan Sarprasadam, provincial of Tiruchy province was the chief guest and gave an inspiring speech to the students. Several dignitaries, well-wishers, parents, and friends graced the occasion. The colourful lights and flags added to […]
Read More