09. KEERANUR – SUSAIPUDAYANPATTI
St. John Bosco; 2015 (2019): Tiruchy
MISSION
Our mission is to spread awareness among young people about administrative jobs in the Indian government sector, its benefits, and train them to secure state and central government jobs. As every Don Bosco initiative, the primary target group of this programme would be motivated, hardworking, intelligent and poor young people from schools (government and aided) and colleges across Tamilnadu. Once we identify them, we talk to parents and propose our offering. As soon as, they give their consent, we will offer the programme which is tailored to young people at different stages of their academic life.
HISTORY
The Salesian Province of Tiruchy during its 2010 Provincial chapter deliberated to have a Youth Resource, Renewal and Research center to cater to the need of the youth of the Province. There was a team appointed by the then Provincial to study the possibility of the same at Perambalur district. The study team led by Fr.MaranSDB presented the report to the Provincial council. The study team proposed Salesians' Integrated Rural Programme for Youth (SIRPY). But due to unforeseen circumstances we could not start the same at Perambalur.
During the Provincial Chapter 2013 the same idea was presented by the chapter members. New committee was appointed to study the possibility of starting the Youth Resource center at Pudukottai district. The team leader Fr.ThamburajSDB presented the study results to the Provincial council highlighting the possibilities and methods of intervention at Pudukottai district. The following are the salient points of the results presented by the committee.
Agro based training cum production unit to train and empower the young people could be considered.
Integrated Agriculture with Animal Husbandry, Fish Farming training center with Job placement opportunities can be started.
A center for training young people in communication skill (English).
Youth center having facilities to organize reach out programs such as Awareness creation, Sports and Life coping skills.
Youth counsellingcenter with job placement cell.
The Provincial council asked Cauveri Development Office to formulate a proposal basing on the study results of the appointed committee. The Cauveri Development Office formulated a proposal with objective of initiating Agro based training cum production center at Pudukottai district. Meanwhile the Province was looking for a suitable place to build the Youth resource center. It found a place near Keeranur at Pudukottai district. The land was located at Susipudayanpatti adjoining the bypass road of Keeranur. The land was bought in the year 2014. It had 17 acres of land with two open well, 300 coconut trees. The Proposal to begin with Agro based intervention was sent to Don Bosco Mondo, Bonn, Germany. It was approved on October 2014. The basic work of setting up the center was started by January 2015. The inauguration of the presence was officially commenced on 15th August 2015.
MAJOR ACTIVITIES
CONTACT DETAILS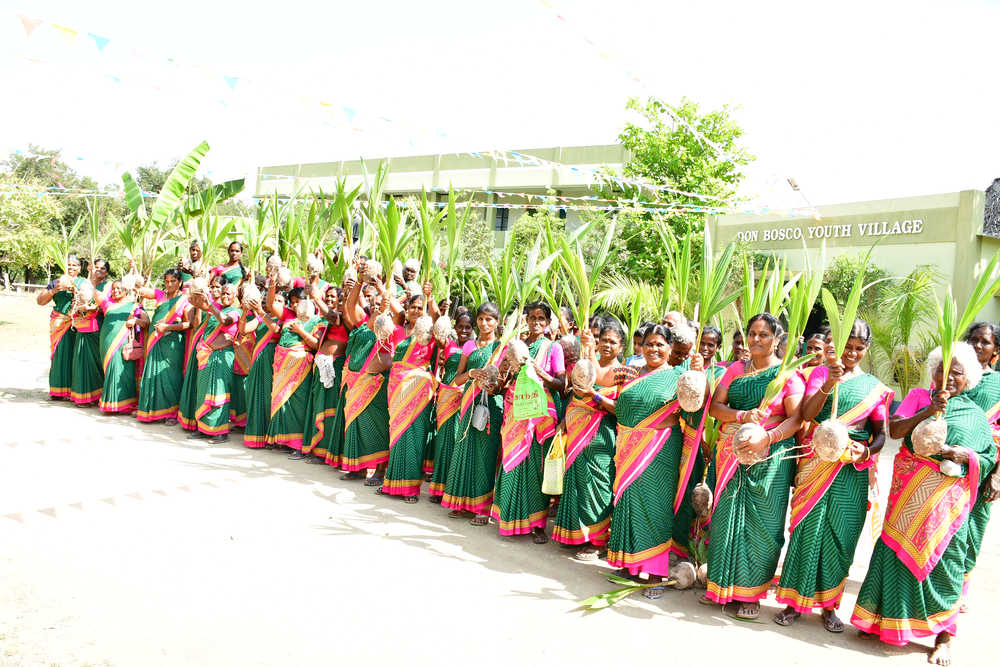 International Women's Day was celebrated on 06 March, 2023 at Don Bosco Youth Village Susaipudayanpatti, Keeranur. Self Help Group members 800 of them from 57 groups covering 24 nearby villages participated in the celebration. Ramon Magsaysay award winner Mr. Kulandai Francis, Founder-President, IVDP Krishnagiri presided over the function and addressed the gathering on the importance […]
Read More