The SDB and FMA local Delegates of the Association of Salesian Cooperators of Trichy Province gathered at Don Bosco Provincial House, Kallukuzhy, Trichy on 12 August, 2023 for a day of animation. The animation was organized to give a clear focus on the Structure and Function of ASC; Roles and Responsibilities of the local delegates; Financial Solidarity of the Association and to plan out the details of forthcoming ASC Congress.
The meeting started with prayer moments animated by Sr. Nirmala and followed by Mr. Jothi Prakasam, Provincial Coordinator of ASC, Trichy Province welcomed the gathering and honoured the previous and the present delegates of the Association.
The Salesian Provincial of Trichy, Fr. Agilan Sarprasadam delivered an introductory note to the meeting and encouraged everyone to create an atmosphere of love in all our mission presences and in various moments of animations.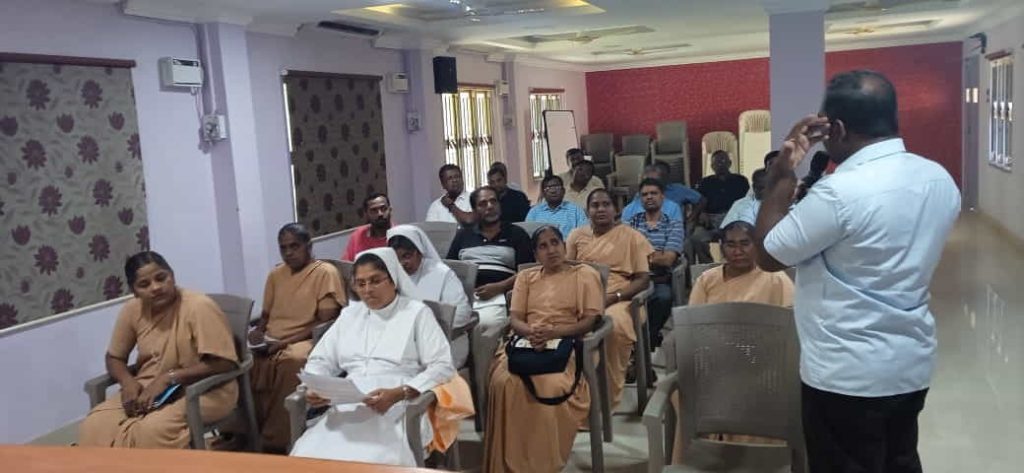 Fr. Joseph Charles, the previous delegates of the Association animated the floor on the structure and functions and Roles and Responsibilities of the Delegates of ASC. Sr. Rosy guided the group discussions on financial solidarity and the planning of ASC Congress. Heeding to the suggestions of the participants the floor agreed to postpone the ASC Congress to next year as it involves a comprehensive preparation. Finally, the animation was concluded with the vote of thanks delivered by Fr. John Barnabas.